Scroll down for english version
Con #WEAREGENIO sosteniamo la raccolta fondi per l'allestimento di oltre 5.000 maioliche, 400 anni di storia della ceramica italiana, attentamente custodite dalla casa museo Stanze al Genio. Una collezione che fino a oggi non ha mai ricevuto alcun contributo pubblico ed esiste solo grazie alle campagne di tesseramento, al contributo dei soci e a donazioni private.
ADOTTA UNA MAIOLICA: restituiremo a un appartamento storico il suo antico splendore e raddoppieremo l'esposizione. Una delle più grandi collezioni al mondo di maioliche italiane avrà anche la tua firma grazie all'iniziativa "Adotta una Maiolica" con la quale il nome di ciascun sostenitore verrà riportato sul supporto espositivo del pezzo da collezione adottato.
#WEAREGENIO is the crowdfunding campaign made to support the exhibition of more than 5.000 majolica tiles, 400 years of italian pottery history, carefully kept by the house museum Stanze al Genio. A collection that never received public funds so far and that exists only thanks to membership campaign, members contribution and private donations.
SIGN THE TILE: we're going to bring back an historical apartment to it's ancient magnificence and we're going to double the exhibition. One of the biggest italian majolica collections in the world is going to have your signature too thanks to the initiative "SIGN THE TILE"  by which the full name of each supporter will be written on the back of the wooden frame of the tile he/she decided to adopt.
Jump at the end of this page for the rest of the english version.
Un piccolo museo gioiello nel centro storico di Palermo, all'interno di Palazzo Torre-Piraino, che espone 2.648 maioliche siciliane e napoletane che vanno dal XV al XX secolo. È tra le prime attrazioni turistiche a Palermo, menzionata e premiata su siti e guide internazionali come TripAdvisor, Lonely Planet e Skyscanner.
Fondata nel 2008, è gestita da un'associazione culturale. Rappresenta un modello innovativo di mostra permanente all'interno di una casa abitata. È aperta 365 giorni l'anno, totalmente autofinanziata con il contributo degli associati e dei visitatori, senza alcun contributo pubblico!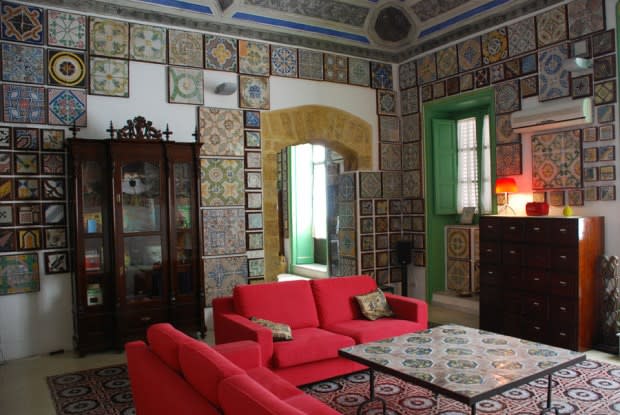 Il fondatore è Pio Mellina, collezionista da bambino che con l'aiuto di alcuni amici è riuscito a coronare il suo sogno di condividere con appassionati e turisti questo piccolo mondo pieno di bellezza, passione per l'arte e il restauro. Pio nel tempo, grazie anche al supporto di appassionati, ha continuato a collezionare maioliche e oggetti antichi d'arte, come calamai e  scatole in metallo. Oggi la collezione è tra le più grandi al mondo.
Altri 2.600 pezzi sono in attesa di poter essere esposti negli spazi che Stanze al Genio sta restaurando a proprie spese con l'obiettivo di riportare agli antichi splendori affreschi, pavimenti, porte e mobilio. Esporre maioliche non è semplice e ogni pezzo necessita di materiali specifici e tanto lavoro. Stanze al Genio non può farcela da sola e ha bisogno del tuo aiuto.
A precious house museum in Palermo's historical centre, inside  theTorre-Piraino Palace, exhibiting 2.648 sicilian and neapolitan majolica tiles from the 15th to 20th century. Amongst the first tourist attractions in Palermo, mentioned and awarded by websites and international guidebooks like TripAdvisor, Lonely Planet and Skyscanner.
Established in 2008, it's managed by a cultural association. It represents an innovative permanent exhibition model inside a house museum. Open 365 days a year, totally self-financed with the support of members and visitors, without any public fund.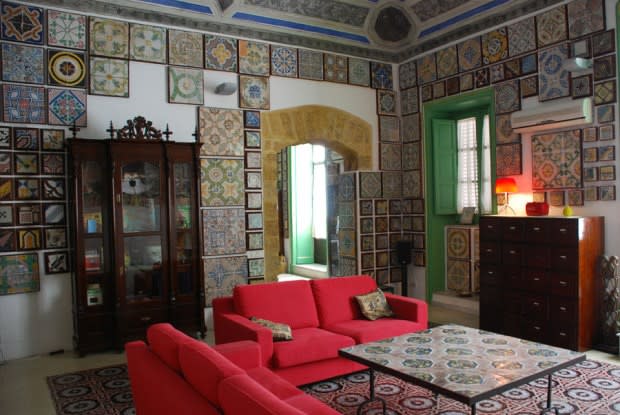 The founder is Pio Mellina, collector since he was a kid, who with the help of some friends finally fulfilled his dream to share with enthusiasts and tourists his little beautiful world, love for art and for restoration. Thanks to passionate people's support, Pio over the years continued to collect majolica and ancient art pieces, like inkpots and metal boxes. Nowadays the collection is amongst the biggest in the world.
2.600 more tiles are waiting to be exhibited in the halls that Stanze al Genio is renovating at its own expense with the aim to bring frescoes, floors, doors and furniture back to their ancient magnificence . Exhibiting majolica is not simple and every piece requires specific materials and a lot of work. Stanze al Genio cannot make it alone and needs your help!